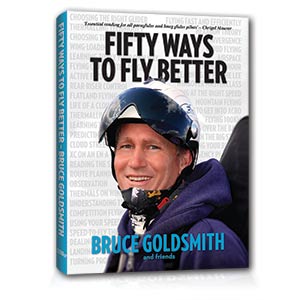 Utveckla din skärmflygning eller hängflygning med den nya boken, "Fifty Ways to Fly Better", från Bruce Goldsmith.
*** Beställ ditt exemplar via följande länk!
Om boken:
Utklippt från xcshop.com:
Do you know the difference between a 'sticky' and a 'fizzy' flying day? Want to learn the climb faster with the turn reversal technique, or understand how to surf through the mountains, choosing the right lines rather than getting hammered by the valley wind?
Fifty Ways to Fly Better is essential for all pilots who want to reach their potential. It is packed with the latest techniques and thinking from Bruce Goldsmith and some of the world's best pilots and instructors. The book draws on 20 years' worth of Icaristics, Bruce's well-regarded column in Cross Country magazine, and combines it with lots of completely new material – all revised and updated for today's pilots.
Fifty Ways to Fly Better includes:
* Heaps of tips to help you climb fast and efficiently
* Psychological techniques to help you perform at your best
* In-depth guides to flying the flatlands and mountains
* Advice to keep you safe while flying near clouds and terrain
* Skills and tactics to help you fly bigger cross country distances
* Straight-forward illustrations to help you maximize flying conditions
* Simple explanations of diverse wind and thermal flow patterns and structures
"Fifty Ways to Fly Better is packed with in-depth flying advice from the pilots who really know" – Jocky Sanderson, SIV and cross country instructor
"Successful pilots often look like they get 'lucky', but it's just not true. To fly really well, you need to be 100% prepared. This book is essential reading for anyone wanting to fly to their best potential" – Chrigel Maurer, multiple Red Bull X-Alps winner and World Cup Champion
Beställ ditt exemplar via följande länk!