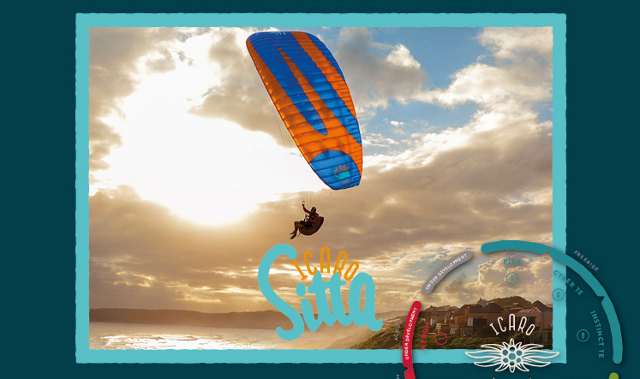 Nya Hike & Fly skärmen från Icaro!
Den här skärmen är för dig som gillar att klättra i berg, vara i bergsmiljö, eller vanliga piloter som älskar att "hike-and-fly" och vill ha en väldigt säker och rolig skärm i ett lättare och mindre format.
Born out of our superstar Aquila, Sitta inherits the unique thermal profile giving it great thermalling abilities even on the smallest sizes and combines it with a very small packing volume and little weight.
The simple line plan and feather light canopy makes the take-off extremely easy even in the most difficult places. Sitta doesn't overshot in strong winds and is very compact and stable in the air. The handling is extremely precise and playful and can suit a wide range of pilots no matter if they just want a calm flight to the valley or want to play through the thermals with wingovers and loops.
The entire glider is made of the light material Skytex 32 and Skytex 27 by Porcher Sport, the new generation of fabric. Some more details emphasis the concept of the glider for example a special riser and a suitable harness.
Läs mer om Sitta på vår produktsida >>