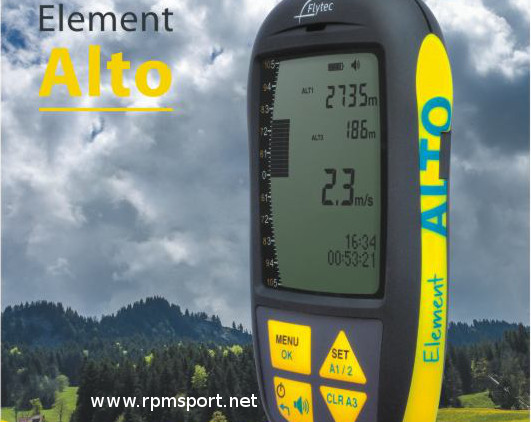 Nya Flytec Element Alto är en uppgradering av den gamla pålitliga Flytec 6000 Detta är instrumentet för dig om du letar efter en enkel, robust och pålitlig vario utan GPS.
Instrumentet kommer bland annat med olika profiler som kan användas för olika typers av flygning, tex: svag, mellan eller kraftig termik, hangflygning eller ballongflygning.
Flytec Alto is a Simple Vario created for the leisure pilot who needs a turn-it-on-and-fly device with essential functionality only. It is Robust. Because it is based on the proven Flytec design with an incredibly solid housing. It is Reliable. Because of the simplified internal electronics by Naviter combined with signature Flytec-quality vario and tone.
Huvudsakliga egenskaper/funktioner:
Robust, shockproof ABS housing
Reliable and proven high-sensitivity vario
Comfortable and clear vario tone
High-contrast monochrome LCD
Keyboard with clearly detectable, glove-friendly keys
Logbook
Customizable vario tone frequency, sensitivity, audio mode, climb-tone
Vario profiles, for different flying types (weak / normal / strong thermals, soaring, ballooning)
Altimeter showing MSL (ALT1)
Altimeter showing Relative / Flight level / meters or feet (ALT2)
Custom relative altimeter which can be reset with a press of a button (ALT3)
Graphical instant and average climb indicator
Numeric average vario indication
Flight time and Local time permanently on display
Selectable units for Altitude, Vario, Time, Pressure, Temperature
Optional additional near-thermal tone
Optional tone when a key is pressed
English, German, Spanish, French, Hungarian, Italian, Turkish user interface
Battery life ~250 h from two AA batteries
Nerladdningar
Tekniska specifikationer
HARDWARE AND OPERATION
Housing
ABS Polycarbonate,
Shock resistant shape
Size
138 x 72 x 24 mm
Weight
122 gram
Sunlight readable LCD
Yes!
Gloves friendly Keyboard
Yes!
Number of buttons
4
Battery type
2x AA type batteries
Battery duration
250 hours
SOFTWARE
Vario
High sensitivity, fast response, customizable tone
Altimeter
Reliable and accurate up to 10.000 meters
Altimeter display
MSL, Relative, Flight Level, Custom
Average vario
Graphical and numerical
Time
Local time & Flight time
Logbook
Takeoff and landing times
Logbook
Takeoff and landing times
Units
Customizable
Multilingual interface
7 languages
---
Pris & beställning:
Vårt pris: 1895 kr
Normal leveranstid: Finns i lager för direktleverans
Leverans inkluderar: Instrument med 2 st AA-batterier, vadderad instrumentpåse och Quick-Guide.
Garanti: 2 år
Vill du beställa eller har frågor så använd vårt kontaktformulär >>
---
Bildgalleri: