---
---

Flytec Element Speed är vår nyaste enklare vario med GPS från Flytec. Detta instrument är för piloter som gillar att veta vad som händer runt omkring dem när de flyger stationärt på sina flygställen. Flytec Element Speed är specialist på att allt som handlar om fart: markhastighet, vindriktning & vindhastighet samt farten i luften (om du köper till en tilläggssensor). Allt detta visas klart och tydligt på skärmen på ett grafiskt och numeriskt sätt. Du kan även välja olika ljudprofiler för instrumentet: svaga / vanliga / starka termikblåsor, hangflygning och även ballong (om du sysslar med sådant). Såklart finns även termik-assistent som visar vägen tillbaka till termikblåsan där du lämnade den.
Några höjdpunkter
Aside from its standard vario functionality, the Element Speed also offers information on the last thermal flown by the pilot, glide ratio, as well as the distance and bearing to the launch site. The vario comes with few keys for ease of handling, but with the tried and tested "domed" keyboard for better usability even with gloves.
Utvecklarens tankar om instrumentet
Speed and glide
The first time I flew with a GPS was in the year 2000. Originally I'd bought it for navigation, but ultimately, the most important information delivered by the device were ground speed and glide. Suddenly I understood how I moved through the air! This helped me tremendously in my development to a cross country pilot. Even today, while free-flying, speed over ground and glide are the two values I read from my vario most often. Altitude I can judge visually, as far as necessary, climbs are indicated acoustically. But to know about speed and glide, I glance at the display every so often.
Wind information
While talking with pilots in schools, at launches or landings, every now and then I hear about somebody who found themselves "suddenly" in a situation where they were no longer able to advance into the wind with their glider. This is why to me, today, accurate wind calculation has become an important safety feature, especially for pilots with little experience.
Vario profiles
Only few pilots are aware that their vario is set up wrong most of the time for the conditions they are currently flying in. Sensitive, with fast reaction times, is really important in fall or winter, with weak thermals – then I want to be informed about even the smallest climb. In strong spring or summer conditions, this can become too much pretty quickly, distract or make me nervous. In these conditions I only want to be told about the really strong climbs, to decide whether I turn in a thermal, or pass by a bubble. To make choosing the right settings as easy as possible, we introduced the vario profiles: Presets for weak, average and strong thermals, which can be adjusted individually by the pilot if required.
Conclusion
The Element Speed combines all this in a compact easy-to-use device, and is therefore in my opinion the perfect vario for beginners and occasional pilots: It delivers exactly the information they need to enjoy long and safe flights. No more, no less. Happy flying!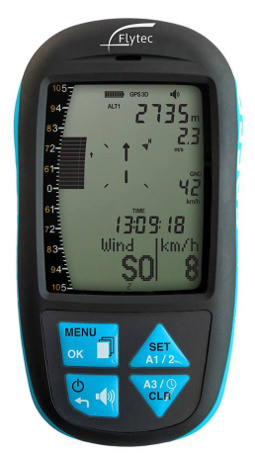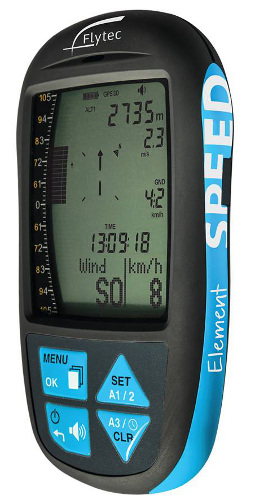 Funktionalitet
Robust, shockproof ABS housing
Reliable and proven high-sensitivity vario
Comfortable and clear vario tone
High-contrast monochrome LCD
Keyboard with clearly detectable, glove-friendly keys
Logbook
Speed over ground
User selectable data fields
Current glide ratio
Wind direction and wind speed
Current flying direction
Distance and direction to launch, and to the last thermal
Customizable vario tone frequency, sensitivity, audio mode, climb-tone
Vario profiles, for different flying types (weak / normal / strong thermals, soaring, ballooning)
Altimeter showing MSL (ALT1)
Altimeter showing Relative / Flight level / meters or feet (ALT2)
Custom relative altimeter which can be reset with a press of a button (ALT3)
Graphical instant and average climb indicator
Numeric average vario indication
Selectable units for Altitude, Vario, Time, Pressure, Temperature
Optional additional near-thermal tone
Optional tone when a key is pressed
English, German, Spanish, French, Hungarian, Italian, Turkish user interface
Battery life about 35 h
Mer detaljer om Flytec Element Speed hittar du i den tekniska specifikationen.
Pris & beställning:
Vårt pris: 3790 kr
Normal leveranstid: 2 – 3 dagar
Leverans inkluderar: Instrument med 2 st AA-batterier, vadderad instrumentpåse och Quick-Guide.
Quick-guide: Ladda ner quick-guide (PDF) >>
Manual: Ladda ner manual (PDF)
Garanti: 2 år
Rekommenderade tillbehör:
Flytec Benfäste: 200 kr
Flytec Plexi Cover (skydda skärmen mot repor): 250 kr
Jämför instrument: Jämför instrument från Naviter/Flytec
Ingår utan extra kostnad vid köp:
Om du uppgraderar till en Element Speed från ett annat instrument så kan vi hjälpa dig att försöka sälja ditt gamla instrument.
Vill du beställa eller har frågor så använd vårt kontaktformulär >>
---