---
---

The Flytec Sensbox is a novel, compact vario with unique usage scenarios:
The Sensbox is our smallest vario with built-in GPS. This makes it the perfect companion for hike&fly and other weight conscious pilots.
Its long battery life and the huge storage capacity based on SD cards make it a great backup device for cross-country and competition pilots.
In connection with aviation apps on mobile phones and tablet computers, the Sensbox serves as highly precise data source, making the apps even more useful.
In its unique logger mode, the Sensbox stores all its sensor values with high precision and speed. This is important data for test pilots, but also serve to augment sports videos of all kinds.
The Sensbox combines all sensors required to capture all flight relevant movements, in an incredible small package:
Newest generation GPS module
Highly precise air pressure sensor for vario and altitude measurement
Magnetic compass
Acceleration sensor
Gyro sensor, to determine spatial attitude
The Sensbox either records this sensor data, or transmits it in real-time via Bluetooth Low Energy (BLE, Bluetooth Smart) to mobile phones and tablet computers, to serve as a data source for aviation apps.
Manuals, configuration tool and the newest firmware version are available in the download section.
Mer detaljer om Flytec Sensbox hittar du i den tekniska specifikationen.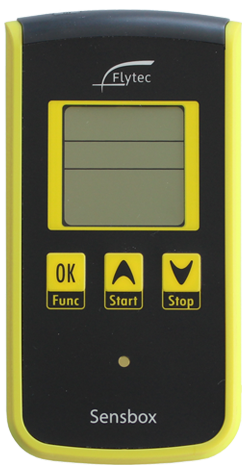 Pris & beställning:
Vårt pris: 3890 kr
Normal leveranstid: 5-7 dagar (beställningsvara)
Garanti: 2 år
Ingår utan extra kostnad vid köp:
Om du uppgraderar till en Flytec Sensbox från ett annat instrument så kan vi hjälpa dig att försöka sälja ditt gamla instrument.
Vi håller dig uppdaterad om nyheter om instrumentet.
Senaste firmware installerad innan leverans
Vill du beställa eller har frågor så använd vårt kontaktformulär (klicka här).
---