---
---

Naviter Hyper är något mindre i formatet än Naviter Oudie 4:an, men Hyper är fullspäckad med funktioner och har även ett hike & fly-läge.
Naviter Hyper är ett riktigt fint lättviktsalternativ (135 gram) med färgskärm & många funktioner eller som ett utmärkt komplement till mer kraftfulla Oudie 4:an. Naviter Hyper är fullspäckad med lättanvända funktioner och har även ett fint hike & fly-läge.
---
Naviter Hyper – Lätt, Enkel, Färgrik.
Perfectly configured as a stand alone instrument for everyday use, Hike and Fly adventures and Cross-country missions.
Pocket size (107 x 70 x 18 mm)
Lightweight (135 g)
Superb colour touch display
Excellent Vario
Thermal assistant
Airspace
Hike and Fly mode
Wi-Fi for flight log and data transfer
GPS Task Navigation
12-36 hours battery autonomy
Hyper gives you enough information to put you on track to your target, avoid airspace, accurately core and return to thermals, and make every thermal count.
---
Hike & Fly
For when every gram counts – we've kept weight down to 135 g. Despite this low weight and pocket size, battery life is between 12-36 hours. Plenty for a long weekend of Vol Biv…
In Hike & Fly mode, your ground based track log will also be recorded. You might not know where you'll end up, but your Hyper will have all the latest airspace and maps to help you.
Having contoured terrain in full colour helps you pick your way through unexplored back country.
---
Tillbehör
New bright options to protect and mount your Hyper.
The silicone Hyper Jacket comes in three colors and serves both as protection and a mounting solution. It has a big hook velcro stitched to the back to make sure it doesn't go anywhere during the adventures.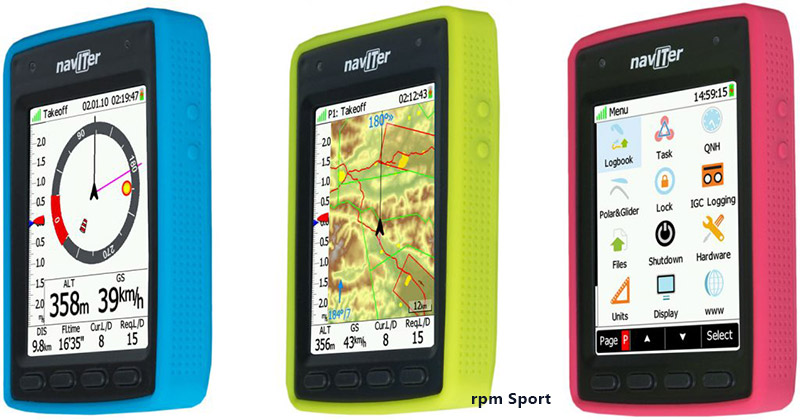 ---
Fyra konfigurerbara displayer
Kompassen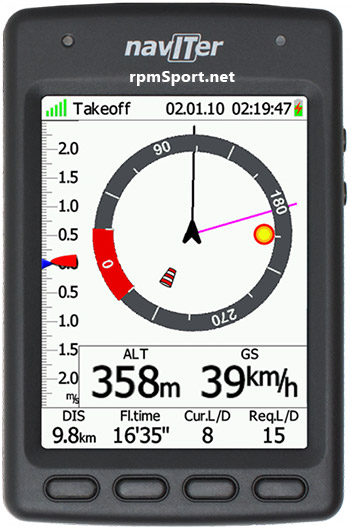 The compass Rose makes direction finding a breeze. See which way you are heading and which way your track goes at a glance.
Wind direction and direction to last thermal are the other two key pieces of information presented here.
---
Karta & Terräng #1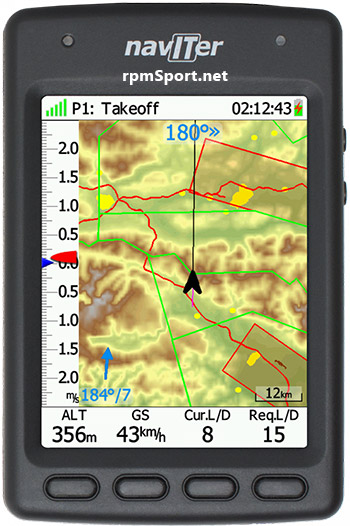 Map and terrain features are clearly seen on the customisable colour display.
---
Karta & Terräng #2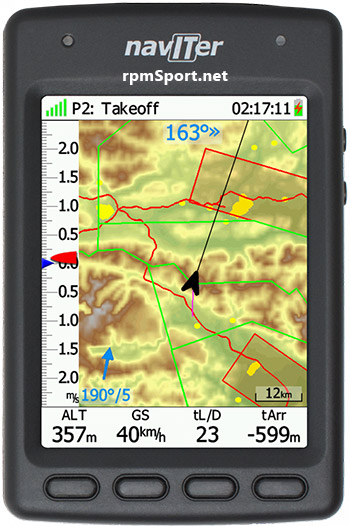 Easily flip to an alternative Map screen, with for example a larger scale to make Airspace obvious, and with different Navbox information appropriate to competition flying.
---
Meny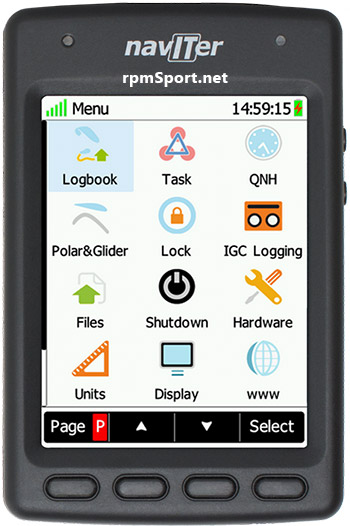 Intuitive settings are accessed via the easy to read menu.
---
Termikassistent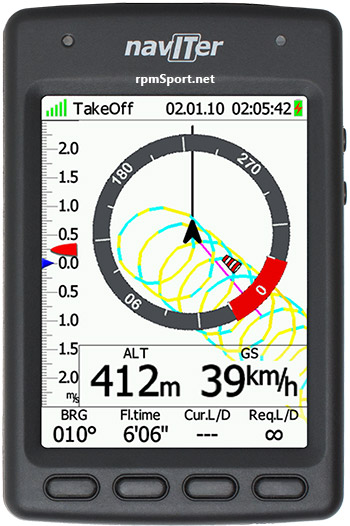 The Thermal Assistant automatically gives visual indication of the strongest lift areas in your present thermal.
---
Airspace View and warnings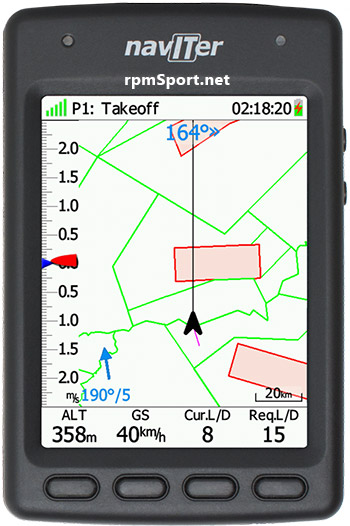 Check your position relative to nearest airspace and view airspace to avoid down track.
A pop-up appears automatically when a potential airspace violation may occur, triggering a sound warning.
---
Waypoints och Go To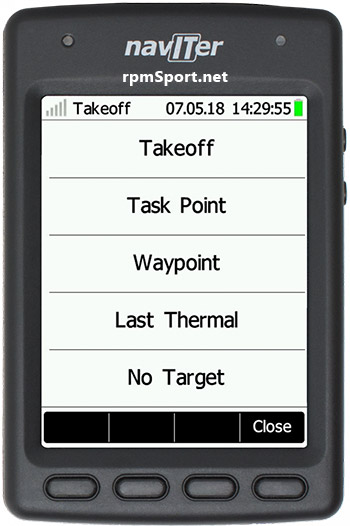 Comprehensive navigation to get you from where you are, to where you want to go.
Quickly see your track to target whilst Hyper performs advanced calculations of landing, distance, bearing and many other useful parameters.
The Go To function offers a quick way to select your current target in-flight.
---
Vad tycker piloterna:
It's surprisingly lightweight, the screen is bright and easy to read, and even with it's small size it is still easy to read from a few feet away. The combination of both touchscreen and buttons will be very nice when wearing gloves.

Aaron Spitz
Intuitive, with a clear display and excellent touchscreen. Connected to our Wifi quickly and easily. Added my email and emailed myself a test flight, created using Hike and Fly mode. Easy peasy! ?

Carlo Borsattino
---
Pris & beställning:
Vårt pris: 6985 kr
Normal leveranstid: Finns i lager för direktleverans
Leverans inkluderar: Instrument med lithium-ion batteri, Kom-i-gång manual, laddare, billaddare, usb-kabel till dator, vadderat fodral, & SeeYou demo CD.
Garanti: 2 år
Ingår utan extra kostnad vid köp:
Om du uppgraderar till en NavITer från ett annat instrument så kan vi hjälpa dig att försöka sälja ditt gamla instrument.
Vill du beställa eller har frågor så använd vårt kontaktformulär (klicka här).
---
Mer funktioner och fördelar:
Of course, we have taken care of the basics, such as the exceptional Naviter vario, great build quality and after sales support.
Easy to operate Tactile and Touchscreen buttons
Enter a Polar, by choosing your wing class: A,B,C, D or CCC
IGC Tracklogs accepted for Paragliding/Hang-gliding records and comps.
---