---
---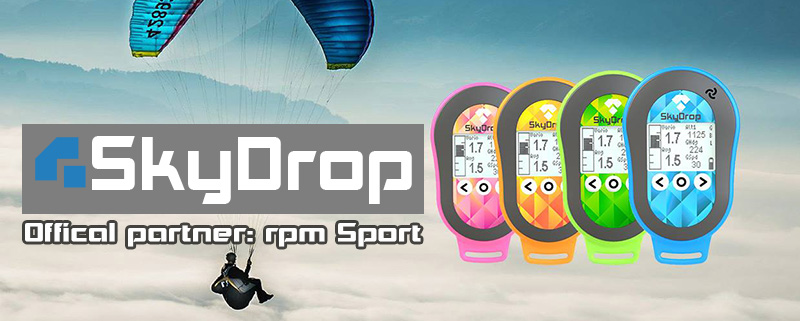 SkyDrop – världens lättaste Vario med GPS!
SkyDrop har en ultralätt och kompakt design och är fullproppad med många funktioner. SkyDrop passar alla typer av skärmflyg- och hängflygpiloter som vill ha ett lättviktsinstrument som samtidigt är väldigt prisvärt. Hike&Fly piloter kommer älska SkyDrop för sin nätta vikt på 68 gram och med dubbla batterier väger den endast 88 gram.
Multiple screens with widgets can be personalized to achieve maximum performance while flying. SkyDrop connected via Bluetooth interface is compatible with Android and iOS based XC apps works as ultimate flight computer.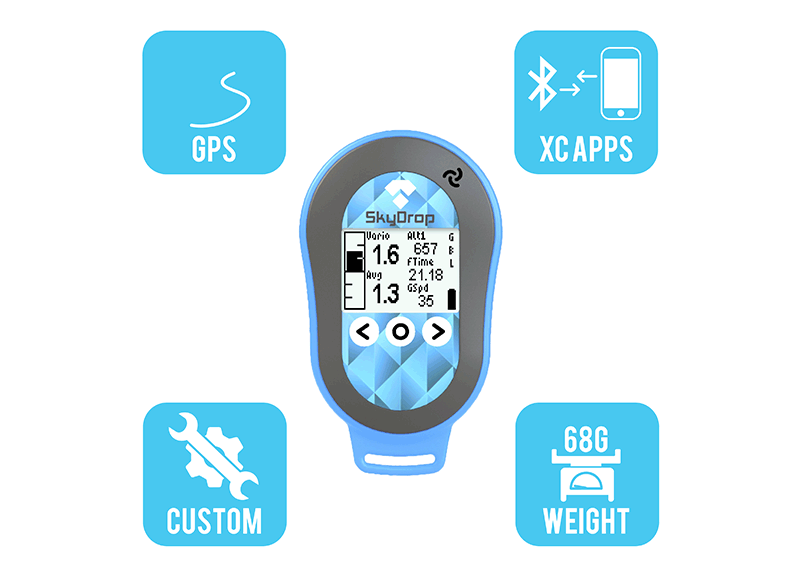 ---
Egenskaper
vario – analog / digital / average, acoustic signalization, graph history
flight loggs – IGC/KML validated by FAI CIVL, accepted for FAI Category 1 competitions
GPS – ground speed, heading, glide ratio
wind speed and direction
altimeters – 5 adjustable altimeters (relative, absolute, GPS or QNH mode)
height above ground level (AGL) – update terrain data into SkyDrop HERE
fully customizable – multiple screens with configurable layouts and widgets
Android connectivity – XCTrack, FlyMe, XCSoar, LK8000, TopHat, Sky Land Tracker, Paragliding Dashboard
iOS connectivity – FlySkyHy, SkyLogger, SkyLogger XXL
digital compass
G-meter
weak lift detection (pre-thermal buzzer)
odometer
bearing and distance from take-off
flight diary

fly time, real time clock

auto take off and landing


UART output (for E-readers connection)
next features (in process):
waypoint navigation

every future feature will be available for free for SkyDrop owners
---
Specifikationer
built-in hardware:
transflective LCD graphical display with backlight
precise pressure sensor MS5611
GPS receiver L80-M39
Bluetooth PAN1026
SD card storage for tracklogs
digital compass, accelerometer and gyroscope LSM9DS0
humidity and temperature sensor SHT21
RGB LED signal light
dimensions: 28x62x15 mm
battery type: Li-Poly single cell 900 mAh (USB rechargeable)
battery life:
only audio mode 13h
audio + altitude logger, without GPS 12h
audio + bluetooth 10h
audio + GPS logger 9h
audio + GPS logger + bluetooth 7.5h
battery life for double battery version:
only audio mode 26h
audio + altitude logger, without GPS 24h
audio + bluetooth 20h
audio + GPS logger 18h
audio + GPS logger + bluetooth 15h
Rear cover is made by 3D print from special material resistant to sunlight and heat. Therefore its surface is not perfectly smooth but covered with thin lines.
---
Paketet innehåller
SkyDrop vario
plastic holder with velcro and straps for mounting
safety twine
USB data&charging cable
user manual
​Riser mount instructions for use: Place one of the velcro pieces on the back side of SkyDrop. Another velcro piece place on the plastic holder. Take two straps and grip the plastic holder to your riser (straps will fit into narrow part at both ends). When you grip the holder with two straps, then cut off what was left from straps. At the end just add SkyDrop to holder.
---
Färger
Klicka på bilderna för att se dem i fullstorlek.
---
Pris & beställning:
Vårt pris: 2790 kr
Normal leveranstid: 1-3 dagar
Fraktkostnad: 75 kr
Manual:: Ladda ner manualen här >>
Vill du beställa eller har frågor så använd vårt kontaktformulär >>

---

Video-guider