---
---

Volirium P1 är en vidareutveckling av Flytec Connect 1 och nuvarande Connect 1 piloter kan få sitt instrument uppgraderat till nya Volirium P1 (kontakta bara oss för detaljer!). Nya Volirium P1 har bland annat bättre och snabbare GPS-positionering tack vare användning av både GPS och GLONASS-satelliter. Dessutom är Volirium P1:s touchsensorn mer robust, och har bättre ljudvolym samt ett nytt tåligt ytterhölje.
Du är en skärmflygpilot eller hängflygpilot som är van att flyga iväg från ditt flygställe, och du satsar på att utveckla dig och slå nya personliga rekord. Du vill se luftrummet längs vägen och strävar efter att ta termiken så effektivt som möjligt. Du är redo för nästa steg i din skärmflygkarriär och behöver ett instrument som inte hindrar din utveckling. Du vill att instrumentet ska vara lättanvänt och du uppskattar även att skärmen är lättläst i alla väderförhållanden (inkl i direkt solljus)
Smartvario
The Volirium P1 is a smartvario, combining the most sensitive pressure sensors in the market with a state-of-the-art flight computer in a compact, purpose-built package. Its software is newly designed and developed, focusing on ease-of-use and manual-free operation.
Easy to use
Pilots should enjoy their flights, and not have to worry about technology. This thought is at the core of the Volirium P1's development: We built a vario that is very powerful, yet very easy to use. Both on the ground and in the air, we use technology to make your life truly easier. Here are just a few examples:
A modern user interface that uses the concepts found on other mobile devices, like smartphones and tablets. This way you will feel immediately at home and know how to operate the P1.
Automatic updates over WiFi: Connect your vario to any WiFi, and you'll be immediately notified if we have released new software for it. In the near future, we'll be using this mechanism also for airspaces, flight data and more.
After each flight, the flight's track is stored in an IGC file, the standard format for uploading flights to online contests, competitions and flight logs. But for a quick peek, the flight is also available as a Google Earth file, you can take a look at your track right away.
Beeping varios at launch are a nuisance. The P1 only beeps once you fly, when you actually need it to.
Glove-friendly hardware
The Volirium P1 is operated with three large, domed hardware buttons that are easy to feel even with thick gloves on. Additional input can be given through the touch display, which also works with any kind of gloves.

Display is readable in bright sunlight
We use a special kind of display (a so-called "transflective" LCD), which ensures that you can read the information even in the brightest sunlight. Actually, the brighter the light, the better.
Precise, fast and "nice" vario
We use our own sensor electronics, and a calibration process that we developed over the last 30+ years, to achieve an unmatched sensor resolution: The P1 can reliably detect altitude changes of 2 cm, based on the pressure change alone! This gives us an incredibly fast and precise vario. A vario that always beeps when you're going up, no matter how slowly. But also a vario that only beeps when you're going up, but remains silent otherwise, regardless of any other movement.
The vario sound can be altered to match your taste, so that you enjoy listening to it and remain calm even in very strong conditions.
Built to last
The P1's casing has been custom-built to keep its sensitive insides save, regardless of botched launches and hard landings. And even if things do break after all, they can easily be replaced by our service centers.
The P1 is operated by a powerful battery that lasts for "a good weekend in Fiesch", about 20 hours of airtime.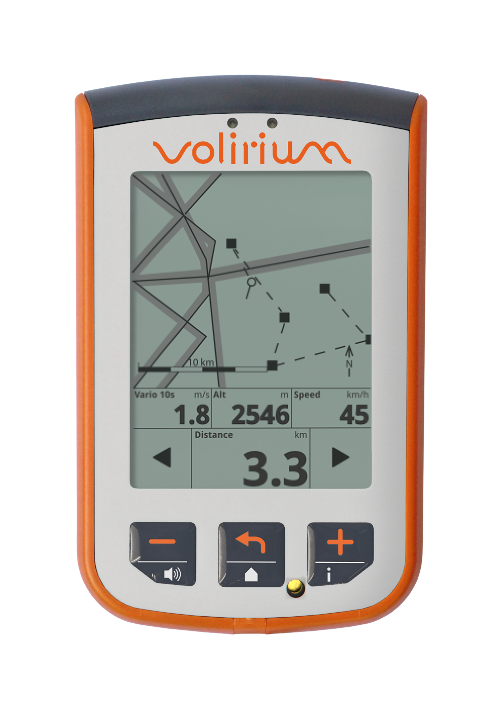 Navigation
The P1's positioning system was designed by our friends at Advanced Sport Instrument, the experts in satellite-based positioning and sports tracking. It uses both the data from GPS and GLONASS, giving us a very quick first fix as well as a very high accuracy.
The positioning information is then used to draw a moving map that indicates your position, airspaces in your vicinity and waypoints.
The P1 works with all the usual waypoint file formats, and gives you the option to either pick one point as your goal ("Goto"), or combine multiple points to a route.
When flying along a route, you get up-to-date information about remaining distance and required glide to the next turnpoint and to goal.
When setting a route as race route, the P1 will guide you through the launch and start procedure, help you fly the shortest way around the course, and give you your race time as soon as you fly into goal.
Connectivity
WiFi: The P1 exchanges information with our servers over the Internet, using WiFi: Software updates and error reports, in the future also airspace and flight data.
Bluetooth LE: Under development: Connect your P1 with any of the numerous free-flight mobile apps, to feed them with accurate climb, altitude and positioning data.
FlyLink: Under development: Connect additional, autonomous sensors to your P1.
USB: When connecting your P1 to a computer via USB, it appears as a mass storage device (like a USB drive), giving you direct access to your flight tracks, and allowing you to upload waypoint and airspace files.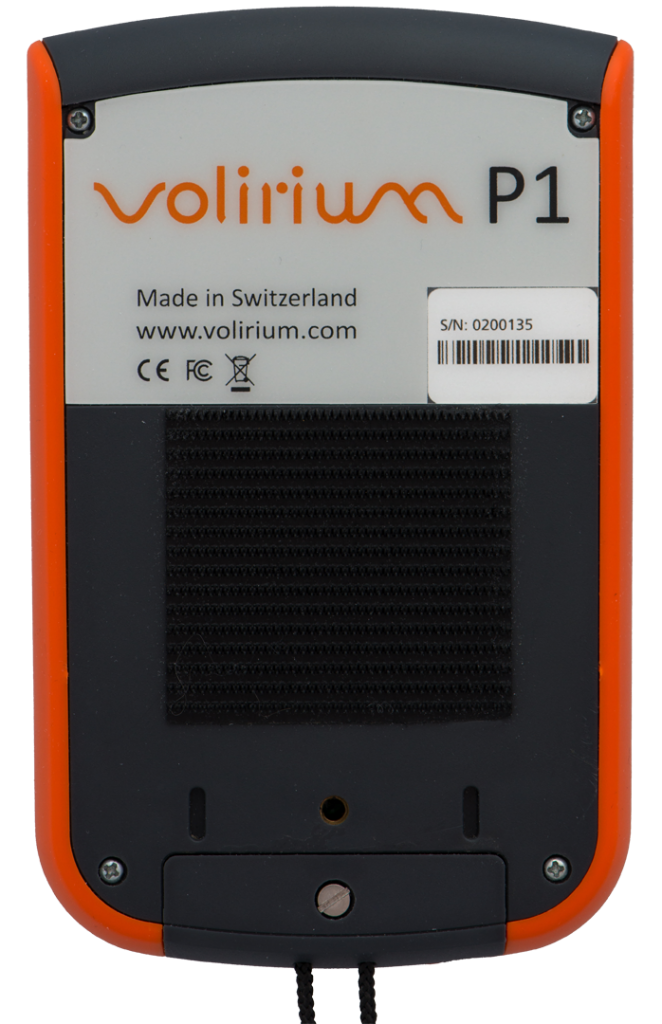 Fullständig teknisk specifikation och mer om mjukvaran:
På Voliriums hemsida kan ni läsa den fullständiga tekniska specifikationen samt det senaste om mjukvaran.
Manual
The P1's manual is under development, for now please refer to the Volirium online manual.
Box contents
The P1 comes with:
Quickstart guide
USB micro cable for connecting it to a computer
Wall charger
Softcase
Velcro patch for cockpit mount
Built-in tether
4 GB micro SD card (enough memory to record thousands of hours of airtime)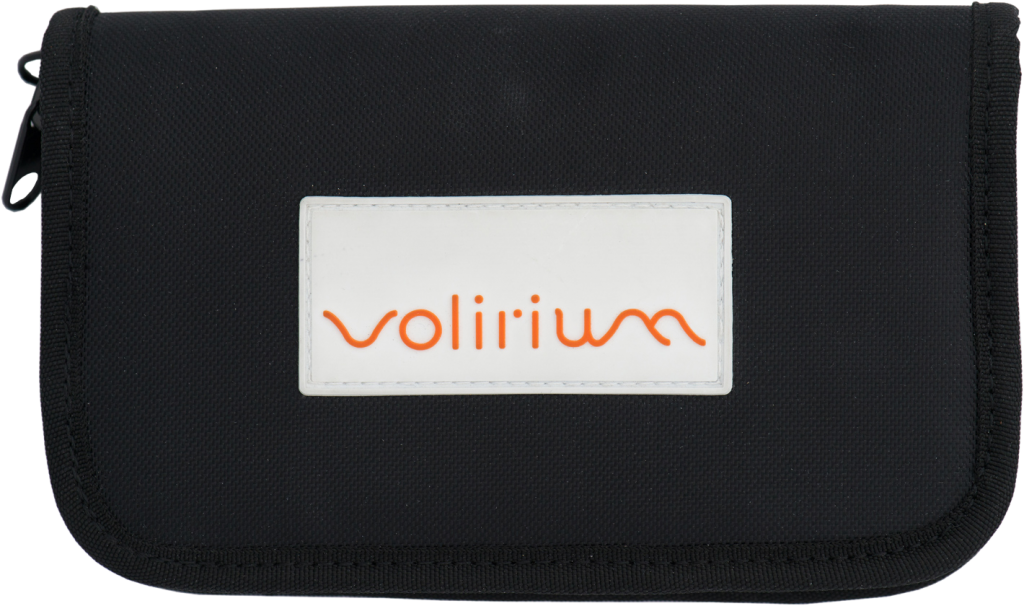 Future hardware options
Pitot: airspeed indication, mainly for hang glider pilots
FLARM: anti-collision beacon
---
Pris & beställning:
Vårt pris: 6790 kr
Normal leveranstid: 5-7 dagar
Leverans inkluderar: Instrument med lithium-ion batteri, 4GB Mini-SD kort, laddare, usb-kabel till dator, vadderat fodral och fäste för cockpit.
Garanti: 2 år
Ingår utan extra kostnad vid köp:
Om du uppgraderar till en Volirium P1 från ett annat instrument så kan vi hjälpa dig att försöka sälja ditt gamla instrument.
Vi håller dig uppdaterad om nyheter om instrumentet.
Senaste firmware installerad innan leverans
Vill du beställa eller har frågor så använd vårt kontaktformulär >>
---