---
---
Aerodynamic, Performance and Comfort – All combined in ENERGY XC
The light weight Energy XC integral competition harness which already convinced in the season 2012 we could inherit in cooperation with Woody Valley with our own ICARO Edelweiß logo and individual details. It is a safe competition harness with great seating comfort and a perfect flight feeling for great days up in the air.
Några höjdpunkter:
Back protector 12 cm
Rescue container under the seat
Self-inflatable aerodynamic back part
Light sitting board out of Polycarbonate
Shoulder- and chest straps can be regulated in flight
Handy- and GPS front pocket at the left and right can be reached easily
Side pocket also easy to reach
Storage for various items
Drinking system within the back part with exit for drinking tube
Removable Cockpit for instruments
Speed-Bar-System with three flexible steps
---
Tekniska detaljer:
Storlekar & mått mellan karbiner och säte:
Small (44.5 cm) / Medium (47 cm) / Large (49.5 cm)
Mått på sittplattan:
* Small: 23.5 cm fram / 21 cm bak / 36.8 cm djup
* Medium: 25 cm fram / 22.5 cm bak / 39 cm djup
* Large: 26.5 cm bred / 23.7 cm bak / 41.5 cm djup
Vikt:
4.95 kg, inklusive karbiner och skydd (storlek m)
Skyddmekanism:
12 cm skumskydd
Sittplatta:
Polycarbonate
Certificering:
LTF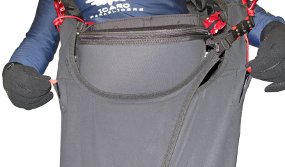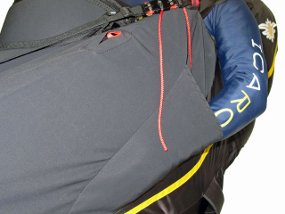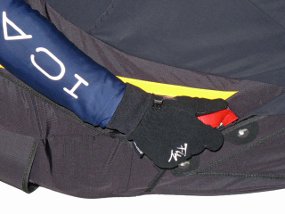 ---
Pris & beställning:
Vårt pris: 9900 kr (intropris tom 2014-12-31) | Ord.pris: 10400 kr
Normal leveranstid: Inom 2 veckor (beställningsvara)
Detaljerad information:
Vill du beställa eller har frågor så använd vårt kontaktformulär.
---
Storleksguide: