---
---

AMIGA 2 – the perfect Tandem glider – share the passion!
The balanced handling and the stable in-flight characteristics make the AMIGA 2 a perfect Tandem glider. The excellent launch behavior remains unchanged even after long time and many hundreds of take-off procedures due to a special construction of the canopy. In the period of development the glider was flown and tested by several tandem pilots. By these results we could optimize the design of the AMIGA 2 for the professional flying and give it a perfect handling.
The general save behavior and the stability of the canopy in turbulence is guaranteed since ever for a PRO-DESIGN glider!
The AMIGA 2 grants highest pleasure for the flight with your passenger!
Highlights
line attachments to ribs on all A- and B- positions, therefore perfect remaining shape on the nose section.
partial V-ribs on C- and D- positions
easy layout of the canopy without line entanglement
perfect launch, no "hang-back" of the canopy, no forward surge and no dive after take-off
remaining perfect launch characteristic over many hundred flights due to SST technology
good trim speed
stable in-flight behavior
balanced handling with moderate brake pressure, perfect turn even with little brake
late and easy recognizable stall for a save landing with the passenger
small packing and light weight
including tandem spreader system with removable bar
Changes made over the previous AMIGA (1) model
new lighter fabric, lower canopy weight, smaller packing, with new coating for improved porosity figures and longer life span
added SST technology (see features)
improvement on interior V-rib construction
improvement of launch and ground handling characteristic due to interaction of the new features
increased rib-to-rib vent function
new refreshment on canopy color combinations
PRO-DESIGN guarantees our well-known top quality workmanship and the use of only the highest quality materials!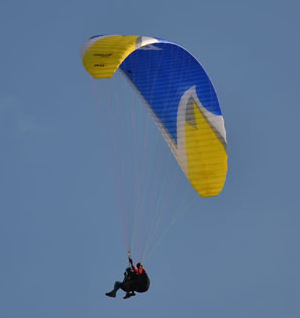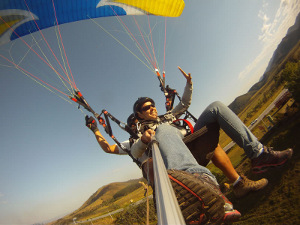 ---
Tekniska specifikationer: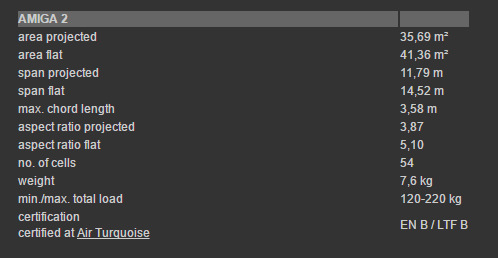 ---
Färger: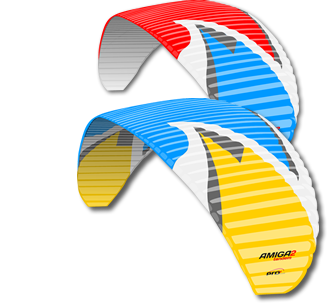 Vill du att din skärm ska ha en mer personlig touch?
Som ett tillägg kan du välja dina egna färger på din nya skärm. Klicka här för att komma till designverktyget
---
Pris & beställning:
Vårt pris: 34900 kr
Normal leveranstid: 2 – 3 veckor (beställningsvara)
Leverans inkluderar: Skärm, innerpackpåse, bekväm skärmryggsäck, manual och några småprylar med Pro-Design logo.
Garanti: 3 års porositetsgaranti.
Detaljerad information: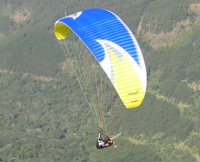 Vill du beställa eller har frågor så använd vårt kontaktformulär (klicka här!)
---
FEATURES OF AMIGA 2:
SST technology
PRO-DESIGN SST technology, a profile nose part reinforcement for better and unchanged launch behavior during the glider's whole life span!
New fabric
New glider fabric with special formular coating for highest durability, longer life span and highly improved porosity figures! Now with even lesser weight for an overall lighter glider!
Light fabric
New glider fabric now with even lesser weight for an overall lighter glider!
Partial V-rib technology
PRO-DESIGN's new development with partial V-rib technology grants an optimum weight distribution to the top surface with fewer line attachment points on the lower surface.
Ram-Air pockets
Ram-Air pockets at the inside of the leading edge on the lower sail reduce disturbing vibrations and stabilise the glider at high speed.
Reinforcement tape
A special tape running span-wise near the trailing edge reduces oscillation and allows for above average in-flight stability.
TETS-brake-line-attachments
For more efficiency on the brake-effect and optimising the tension on the trailing edge with minimum brakelines necessary
Differing line diameters
The special PRO-DESIGN line concept with progressively differing diameters allows for maximum overall strength and the lowest possible drag. Another important new development from PRO-DESIGN is the new pre-stretched and bend-insensitive Dyneema line. These highly durable lines have an increased breaking strength while remaining consistent in length.
Splitline
A special A-folding line for easily doing big-ears is also standard.
Velco opening on stabilizer
On the back part of the stabilizer there is an integrated Velcro opening what allows to remove dirt from the inside of the canopy.
Convex panel cut
A special convex cut of the panel in the nose section cares for improved accuracy of the profile shape resulting in a better performance feature.
Swivel on brake handle
The in the brake handle integrated swivel prevents the main brake line to get twisted.
---