---
---

POWERED INTERMEDIATE
The particularly balanced Intermediate THEMA 3 in the MOTOR version is a fantastic option for pilots who wish to have the ability for free flying and flying with the motor combined in one glider.
---
FÖR VILKEN PILOT PASSAR DENNA SKÄRM:
The easy ground handling and optimum launch behavior with quickest inflation and coming overhead, as well as the forgiving general flight characteristic making it suitable for a wide range of pilots. Due to the high safety potential the wing is also recommended to the newcomer pilot. The riser system clearly described in the extra page allowing adjustments for free flying and the motorized flight. The handling in flight and turning behavior will please the pilot from the very first moment!
THEMA 3 MOTOR – a proven design excellent for both, free flying and the powered flight!
---
KARAKTÄRSDRAGEN HOS THEMA 3 MOTOR:
* Easy zero wind inflation
* Short take off distance
* Effective flare for soft landings
* Ease of use
* Efficient performance
* Stability in turbulence
* Pleasing precise handling
* Suitable for most power units
* Riser design for free flying PG and PPG
---
BILDGALLERI
Klicka på bilderna för full storlek.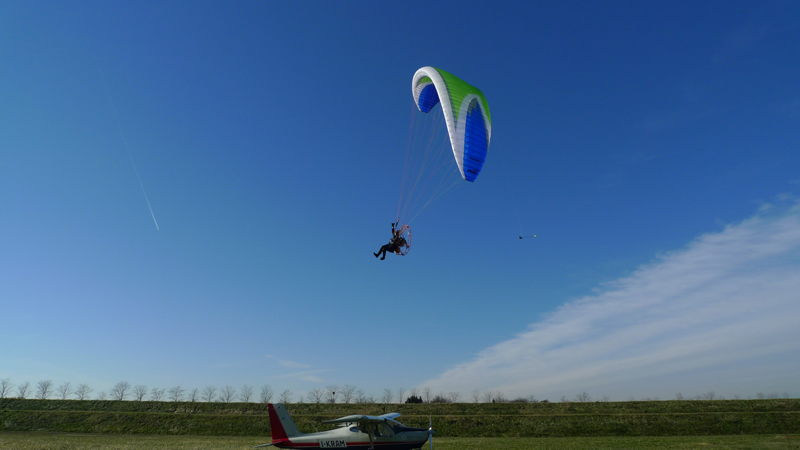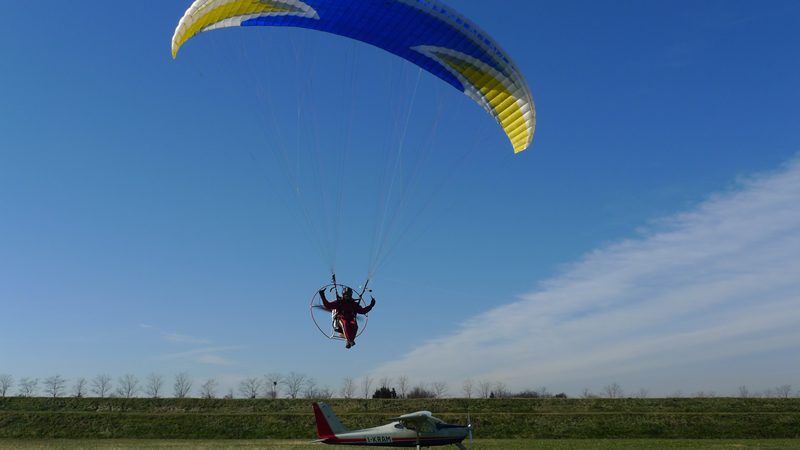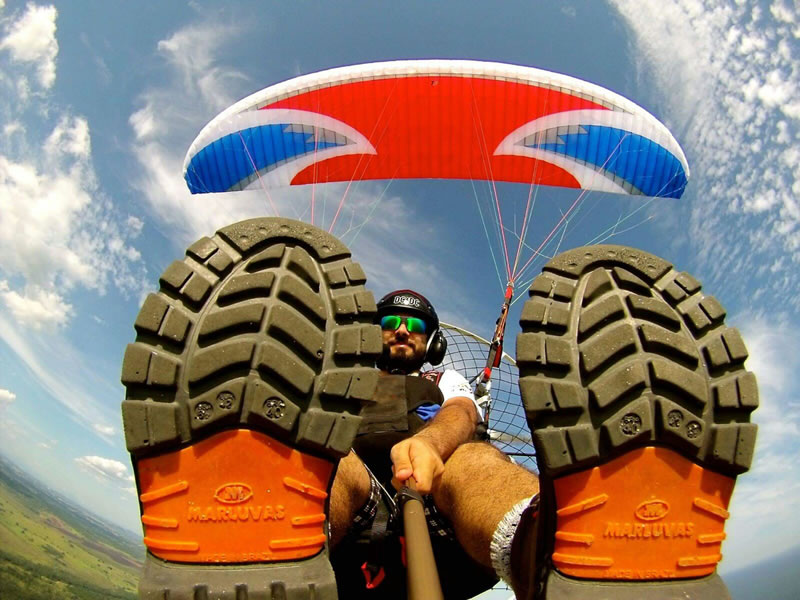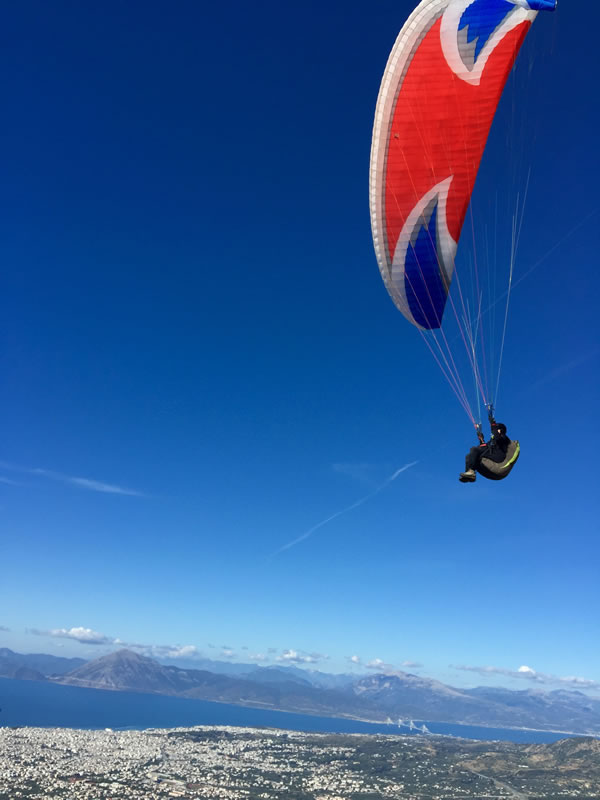 Hela bildgalleriet för Thema 3 Motor hittar du på Pro-Designs hemsida >>
---
UTSEENDET PÅ SKÄRMEN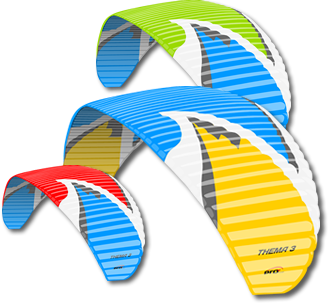 Vill du att din skärm ska ha en mer personlig touch?
Som ett tillägg kan du välja dina egna färger på din nya skärm. Klicka här för att komma till designverktyget
---
TEKNISKA DETALJER: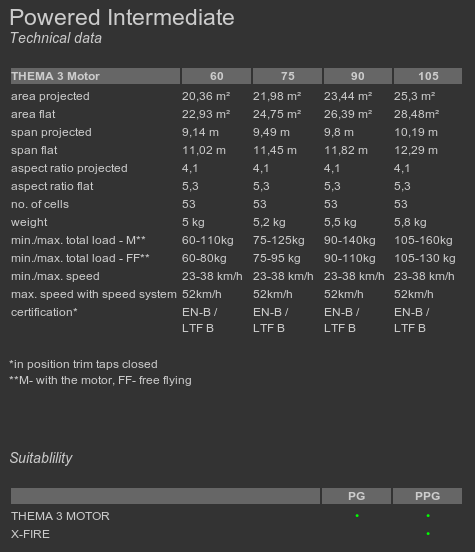 ---
RISERS PÅ THEMA 3 MOTOR
The special Paramotor risers are equipped with a regular speed-system as well as with trim taps. When trimmers are closed, A-, B-, C- and D- risers have same lengths like standard on the risers for the model THEMA 3. The speed-systems have same speed ranges.
The Paramotor risers are equipped with an additional second higher hangpoint.
When trimmers are open, the D- risers are for 5cm longer and the C- risers are for 2,5cm longer than A- and B- risers. With open trimmers the canopy comes overhead much easier and faster on flat take off terrain. In the air a faster trim speed can be achieved, and with asymmetrically opened trimmers a compensation for the torque of the engine.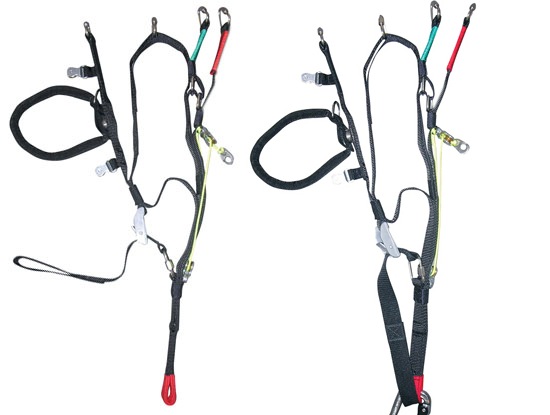 ---
PRIS & BESTÄLLNING:
Vårt pris: 27900 kr
Normal leveranstid: Inom 2-3 veckor (beställningsvara)
Leverans inkluderar: Skärm, innerpackpåse, bekväm skärmryggsäck, speed-system, manual och några småprylar med Pro-Design logo.
Garanti: 3 års porositetsgaranti.
Detaljerad information:
Vill du beställa eller har frågor så använd vårt kontaktformulär (klicka här!)
---
FEATURES OF THEMA 3 MOTOR:
SST technology
PRO-DESIGN SST technology, a profile nose part reinforcement for better and unchanged launch behavior during the glider's whole life span!
New fabric
New glider fabric with special formular coating for highest durability, longer life span and highly improved porosity figures! Now with even lesser weight for an overall lighter glider!
Light fabric
New glider fabric now with even lesser weight for an overall lighter glider!
Partial V-rib technology
PRO-DESIGN's new development with partial V-rib technology grants an optimum weight distribution to the top surface with fewer line attachment points on the lower surface.
Ram-Air pockets
Ram-Air pockets at the inside of the leading edge on the lower sail reduce disturbing vibrations and stabilise the glider at high speed.
Reinforcement tape
A special tape running span-wise near the trailing edge reduces oscillation and allows for above average in-flight stability.
TETS-brake-line-attachments
For more efficiency on the brake-effect and optimising the tension on the trailing edge with minimum brakelines necessary
Differing line diameters
The special PRO-DESIGN line concept with progressively differing diameters allows for maximum overall strength and the lowest possible drag. Another important new development from PRO-DESIGN is the new pre-stretched and bend-insensitive Dyneema line. These highly durable lines have an increased breaking strength while remaining consistent in length.
Splitline
A special A-folding line for easily doing big-ears is also standard.
Velco opening on stabilizer
On the back part of the stabilizer there is an integrated Velcro opening what allows to remove dirt from the inside of the canopy.
Convex panel cut
A special convex cut of the panel in the nose section cares for improved accuracy of the profile shape resulting in a better performance feature.
Swivel on brake handle
The in the brake handle integrated swivel prevents the main brake line to get twisted.