---
---

Flymaster Tracker är ett fantastiskt litet tillbehör för alla som sysslar med äventyrssporter & vill öka säkerheten genom att kunna spåra varandra i realtid över internet. Dessutom finns en SOS-knapp ifall något oväntat skulle ske.
Nyhet – hyr din Flymaster Tracker!
rpm Sport erbjuder dig som vill öka din säkerhet på dina flyg att hyra en komplett, aktiverad och färdigkonfigurerad Flymaster Tracker för endast 395 kr för 10 dagar. Då ingår också alla fraktkostnader inom Sverige och obegränsad livetracking över hela världen. Du meddelar oss till vilken eller vilka e-postadresser du vill att ev nödmeddelande skickas till, så konfigurerar vi detta för dig. I paketet vi skickar till dig ingår även en förbetald returfraktsedel så du enkelt kan skicka tillbaka den.
Varför ska du ha live-tracking för att öka säkerheten? Jo – genom att ha en live-tracker så kan man följa dig live på internet var du flyger. Skulle du råka ut för något oväntat och behöver hjälp trycker du på SOS-knappen under 5 sekunder. Kan du inte själv larma kan man följa din livetrack på internet och på så sätt tillkalla hjälp till där du befinner dig om du inte rapporterat tillbaka till dina vänner eller familj.
Vill du hyra en Flymaster tracker? Kontakta oss via vårt kontaktformulär >>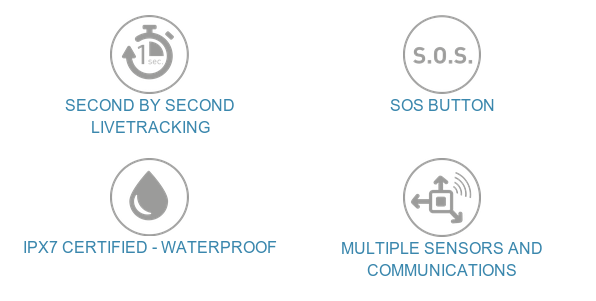 The new Flymaster Tracker borrows on the proven tracking technology developed for the LiveSD and GpsSD+. The Tracker features a pressure sensor, so it's flight log can be used to generate IGC data which includes the compulsory barometric altitude. Also built in is an accelerometer and RF module that can comunicate with the Heart-G or TAS Probe. It is built from high strength polycarbonate combined with a rubber exterior, making it extremely robust and water resistant. So it can be used not only for flying, but also for other activities, such as Kite and Wind Surfing, Mountain Biking, etc.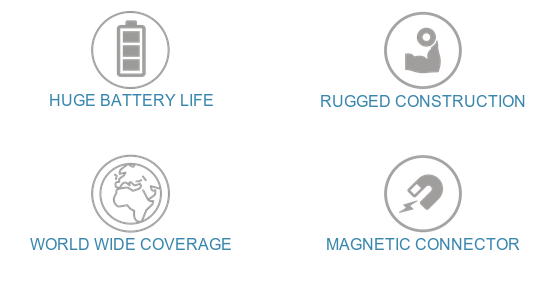 Vad finns i förpackningen
In order to fit tracker to multiple activities it's provided a bike holder, an arm band and a lanyard. In the box there's also a quick start guide, a charger with your country adapter and a magnetic USB cable.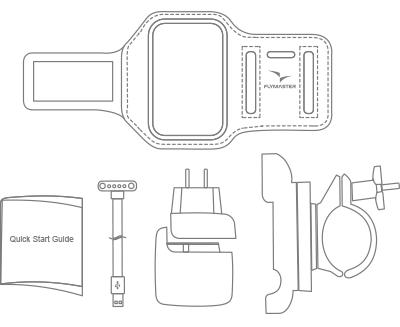 Säker XC-flygning
XC flying is rewarding, yet landing out alone can be scary. With the LiveTracking system you will never be alone on your XC adventure. Flymaster LiveTracking technology is the standard for the Paragliding World Cup and the Red Bull X-Alps.
Flymaster-molnet!
All your flights will be automatically uploaded to our Cloud Flights Web Service. Inside your flight details page, you can review your flight, play it back, analyse all data, including all external sensors data, like G-forces and heart rate values. You can also download your flight in IGC or KML format.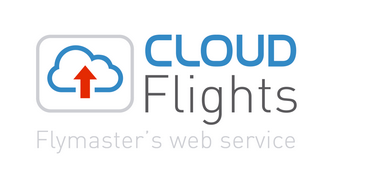 Expanderbar
The Tracker has a built in low power wireless interface for connecting compatible accessories. The list of Flymaster wireless accessories is the most complete on the market. Already available for the Tracker are the HEART-G and TAS.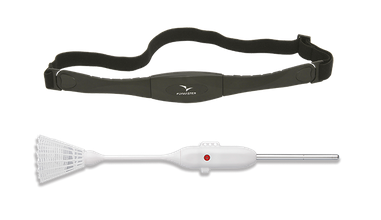 Dela dina flyg!
Flight Sharing can be extended beyond the LIVETRACKING. After activity, automatic track data can be sended to several well known databases like Leonardo, or DHV. You can also share your activities through Facebook or Email.

Så enkel!
Manage all device functions with three keys. With a dedicated for deploying a SOS alert. Just switch it on and you are ready to go.
---
Pris & beställning:
Vårt pris:
Flymaster Tracker Fast (2G): 1995 kr
Flymaster Tracker Flexibel (2G): 2695 kr
Särskilt abonnemang krävs: För den fasta prisplanen kostar det 4.99 Euro per månad (bindestid 2 år), och efter 2 år så övergår planen till den flexibla (3.99 euro/månad)
För den Flexibla prisplanen kostar det 3.99 Euro per månad om du har tjänsten aktiv. Du kan öppna eller stänga ditt abonnemang månadsvis för den flexibla planen.
Normal leveranstid: Finns i lager för direktleverans
Leverans inkluderar: Tracker med lithium-ion batteri, magnetisk usb-kabel, snabb-start guide, laddare, fäste för cykel och armfäste.
Garanti: 2 år
Vill du beställa eller har frågor så använd vårt kontaktformulär >>
---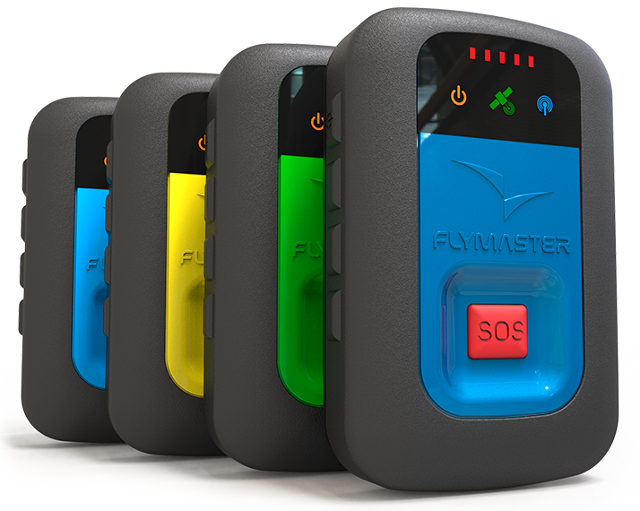 Tekniska specifikationer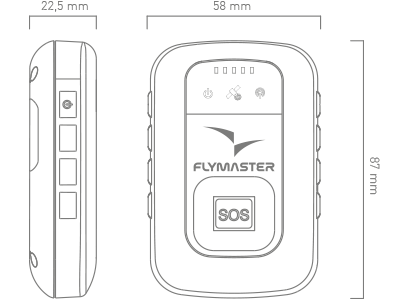 Main Hardware Characteristics
* Battery Capacity (Lithium-Ion): 1800 mAh
* Autonomy: > 20 hours (1 positon per second)
* Size: 87x58x22.5 mm (Length x Width x Thickness)
* Weight: 93 gr
* GPS: 72 channels GPS/GLONASS
* Native USB Connection: Allows connection to the PC to download Tracking Data and upload Firmware
* Battery Charging: From wall adapter, car adapter or standard usb port
* Quad-band GSM: GPRS class 10. Quad-band support: GSM 850 MHz, EGSM 900 MHz, DCS 1800 MHz and PCS 1900 MHz.
* RF Interface: Allows the wireless connection of several external probes, like HEART-G or TAS probe, simultaneously.
* 6 Axis accelerometer and pressure sensor: Allows G-Force measure and barometric data
* Firmware update by USB (upgrades are free)
Memory Features
* 3D track log.
* Storage for >300000 track points.
* At least for 83 hours of track activity.
Live Tracking
* Upload of track data to repositories using the GSM network (compatible with several repositories like Leonardo XC server, XContest, DHV).
* Automatic almost real time flight data sending to a remote live tracking server through GSM network (compatible with several servers like Flymaster, LiveTracking24, DHV, etc).
* On demand sending of predefined messages to a server (eg. SOS).
* Small GPRS data usage (considering that communication is not lost, in average, requires 25KB per activity/hour).
Interface
* Compatible with MacOSX (1.9 and higher), Windows (vista/7/8/8.1/10)
---
Tillbehör:
---