---
---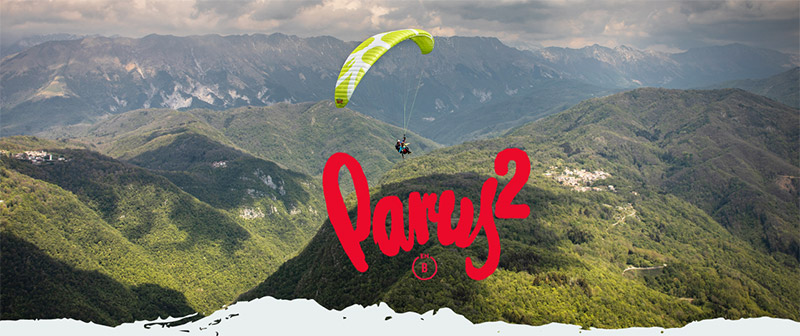 FUN IN PAIRS
Icaro Parus2 är vår helt nya tandemskärm från Icaro. Parus2 är byggd från grunden med den senaste sharknose teknologin. Skärmen är sydd med det mest sofistikerade tyget som finns på marknaden just nu, "STA15", och detta gör den till en av de lättaste tandemskärmarna på marknaden. Fortfarande en slitstark skärm och den har ett extremt enkelt start och landningsbeteende. Skärmens styrkänsla i luften liknar mer en singelskärm än en tandemskärm.
Med nya linsetet så har vi minskat luftmotståndet med cirka 35% mot föregångaren vilket leder till bättre glidtal och ett högre fartregister. Ett tyskt kvalitetsbygge helt enkelt!
Den kommer i två storlekar 35.5 m² (6.5 kg) och 41.5 m² (7.2 kg), och båda är klassade EN-B. Viktområdet för den mindre storleken är 100-185 kg och för den större 130 – 230 kg.
Den här tandemskärmen har allt du letar efter!! Kika gärna även in Icaros Tandemsele, "Loxia", och passagerareselen, "Batis", samt Icaro:s fina tandemspreaders. Vi har även lättviktsnödskärmar för tandem!
---
FÖR VILKEN PILOT PASSAR DENNA SKÄRM:
Due to its extremely easy handling and predictable flight characteristic, the Parus² is suitable for all pilots who want to use it either commercially or just for flying with family and friends.
For freestyle or sportive oriented pilots, the Parus2 in size 35,5 m² offers handling characteristics which are as close as possible to a solo glider.
---
KARAKTÄRSDRAGEN HOS PARUS:
With 7.2 kg for the 41.5 m² and 6.5 kg for the 35.5 m² glider, we do offer one of the lightest tandem gliders available on the market. Take off behaviours are just superb and handling characteristics shows a lighter and more agile canopy.
Another big improvement are the new Line-types. Around 35% of drag reduction has been achieved with thinner Dyneema lines. This results into a better glide ratio and a higher top speed. Due to new leading-edge Mylar reinforcements and 40 additional Mini-Ribs along the Top-Sail, the glider feels even more precise and indicates thermals better.
The small Parus2 with 35.5m² has been developed for Pilots looking for the ultimate fun glider up to 180kg take-off weight. The handling is outstanding for a tandem glider.
The 41.5 m² Parus² in contrast has been tweaked to be the best companion for professional Tandem pilots. With a take-off range from 130 kg to 230 kg and its light but durable material, the glider will fulfil all wishes.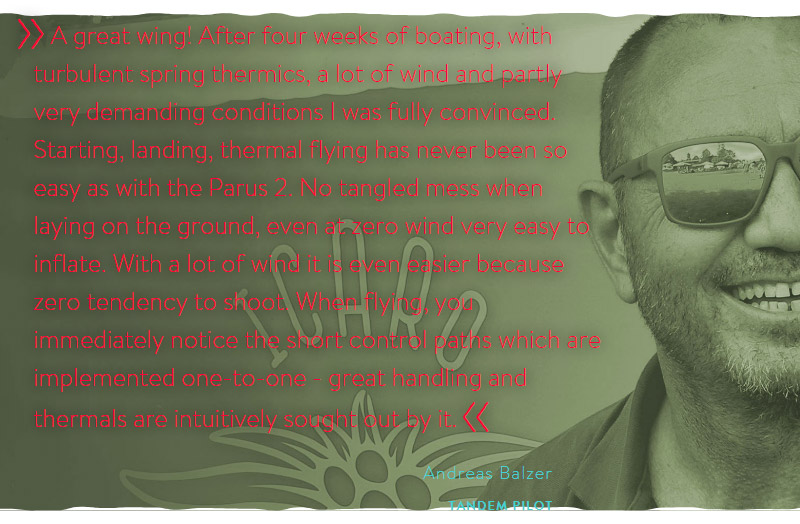 ---
UTSEENDET PÅ SKÄRMEN
The Parus² design consists of the heart piece of the ICARO Edelweiß-logo. This design is very prominent in the sky and you will leave a lasting impression.
Please note that the specially created colourways are also available for professional tandem pilots who wish to add advertising on the bottom sail which is therefore left single-coloured.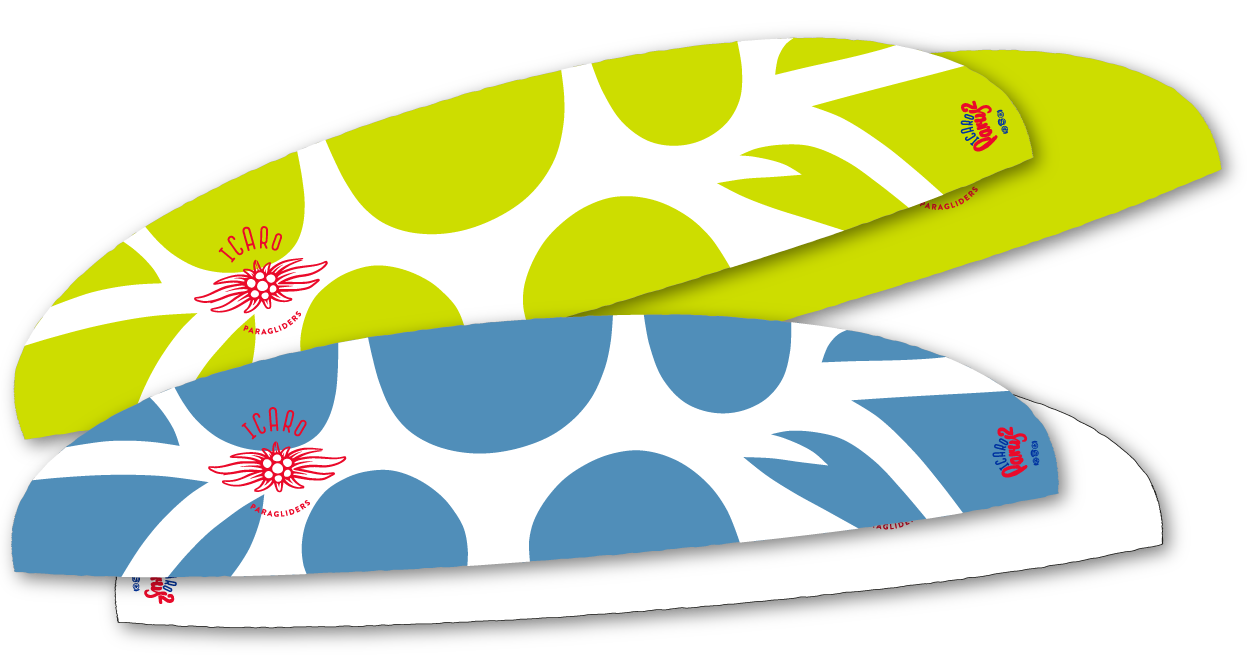 ---
TEKNISKA DETALJER: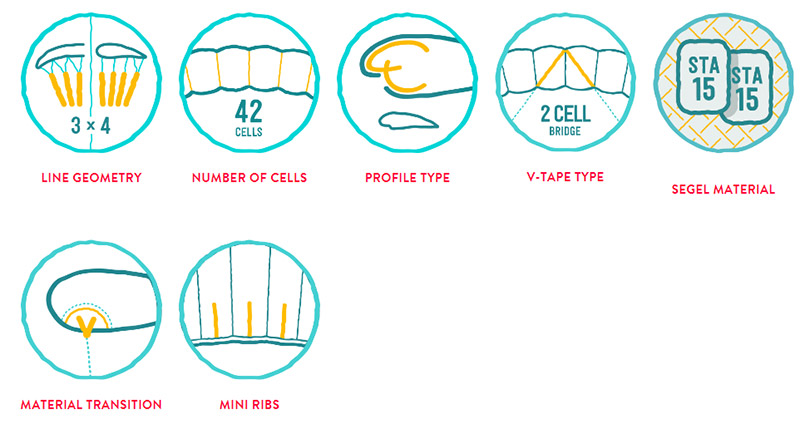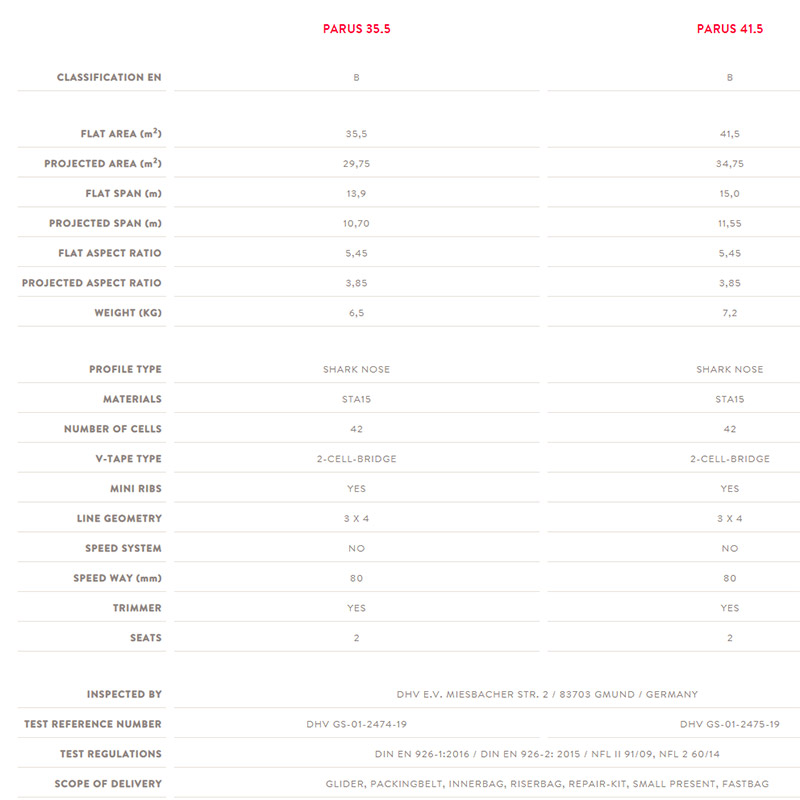 ---
PRIS & BESTÄLLNING:
Vårt pris: 33900 SEK
Exportpris Norge: Kontakta oss!
Normal leveranstid: Inom 7-10 dagar (beställningsvara)
Vill du beställa eller har någon fråga så använd vårt kontaktformulär >>
Detaljerad information:
---
BILDGALLERI
Klicka på bilderna för full storlek.